Hey there Cutie Club! We have several updates this week as we're putting the final touches on our alpha build for Gamescom.
Jelly Meter Trends
We've added trend indicators to the jelly's energy, hunger and happiness icons to make managing these stats easier.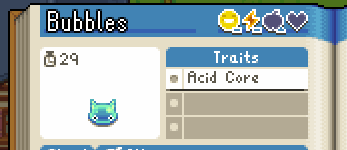 Interactable Objects
We noticed at previous events that people would try to interact with different background objects. So we've now made it possible to add static dialogue to fixed collision boxes via Tiled. Now we can add dialogue to everything! 🙂

More animtions + faces
Sebastien has been adding some new animations and faces to make sure jellies look 200% cute for Gamescom!
Private Alpha
As we mentioned last week, we'll be sending out keys for the private alpha this week. If you want to be part of the private alpha, make sure to sign up to the Cutie Club to get your key 🙂
What's next…
This week we'll be focusing on fixing any bugs and quick improvements in preparation for Gamescom. If you're attending Gamescom next week, make sure to stop by the Indie Arena Booth at Hall 10.1 Booth A20 to check out Alchemic Cutie and all the other amazing games that'll be there!
P.S. If you haven't signed up to the Cutie Club yet, you can do so here. You can also follows us on our official Facebook, Imgur and YouTube pages.
---