Hey there Cutie Club,
We've got several updates today!
Dublin Games Festival
We're excited to announce that we'll be exhibiting Alchemic Cutie at Dublin Games Festival 2018 on 24th November @ RDS, Dublin. Dublin Games Festival is Ireland's newest gaming event which combines Esports, Gaming Experiences, Business and Marketplace into one event. So make sure to stop by our booth and check out the latest version of next year's cutest game!
Items Alpha Update
We're still busy fine tuning at lot of the existing alpha content based on player feedback. Today we've released a new alpha update for the game items! We've reworked a lot of the items and related user interface to make item progression and effects easier to understand.
Our original item progression via alchemy had too many layers and was too confusing. Now, we halved the number of items and effects to reduce the number of layers. We've also renamed a lot of items to hint at what their effect is.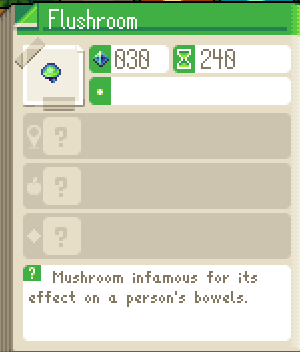 We've also added a new Codex tab to the player's notebook. The Codex allows you to track items and flora you've found in the game world (completionists will have a fun trying to discover everything on Wimba Island!). It also provides you with information about the items and flora such as how long they take to regenerate, what they transmute into and more.

We've also changed the item effects to icons to match the new Jelly UI, this should hopefully improve understanding the outcome of a Jelly eating the item.
What's next?
In the previous update we added a character section to the player notebook for keeping track of NPCs that you've met and what quests are available. We're now working on improving our NPC system so that we can add in tutorials and quests to the alpha. Expect some new stories to appear in the alpha soon! And if you haven't already, make sure to follow @alchemiccutie and @CIRCLE_Ent for future updates.
---