Hey there Cutie Club,
We hope you had a good 2019 and have an even better 2020 🙂 We have a few quick updates today.
Jelly Traits & Abilities
We've been working on updates to Jelly traits and have finalised all 32(!) possible traits a Jelly can have.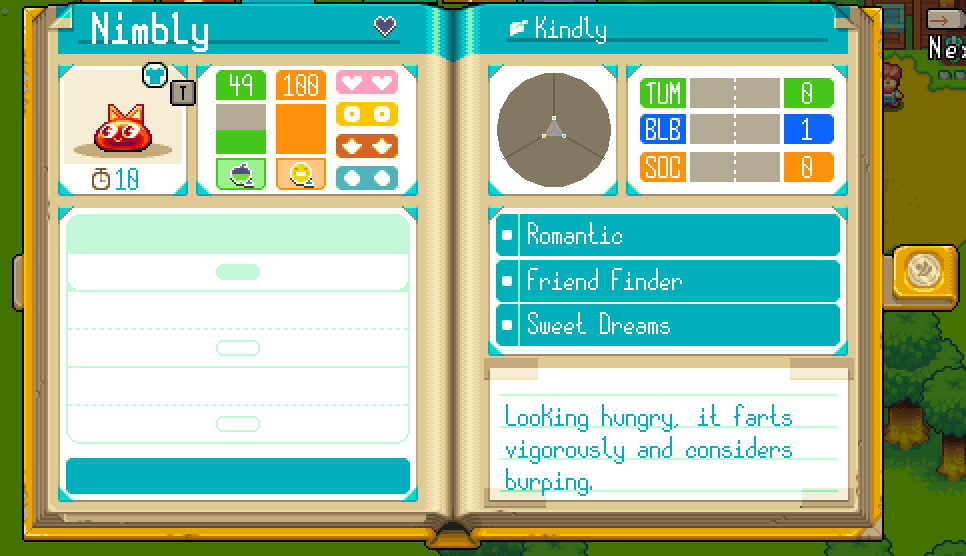 Every Jelly can have up to 3 traits. Traits can effect things such as digestion speed, stats, breeding and behavior. However, we've added some special traits (also known as Abilities) that activate while the player is carrying or holding a Jelly. These include finding hidden items, seeing when wild Jellies will appear and more!
Wild Jelly traits depend on the area, time of day and season so some exploring will be required to find the traits that you want. And if you want a Jelly to have a specific combination of traits, you'll need to breed some Jellies.
Goodbye Obo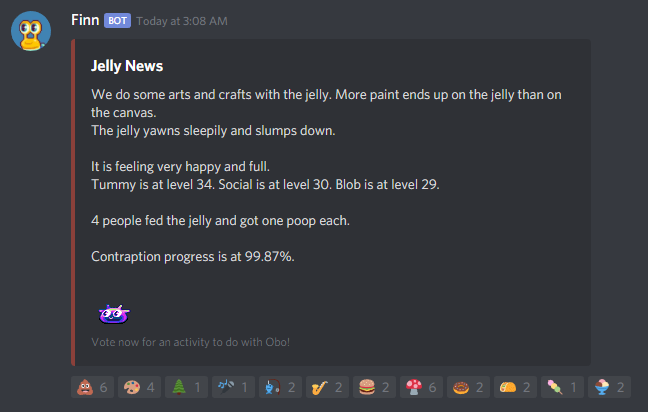 A few weeks ago, a Jelly egg appeared in our Discord server. Everyone helped to take care of the egg and when it hatched, we voted to name the jelly 'Obo'. Since then, everyone took care of Obo, feeding them tasty treats and playing with them. Obo's stats resulted with Tummy at level 34, Social at level 30 and Blob at level 29.
But alas, the contraption completed, and Obo has been sent to Wimba Island. And now a new Egg has appeared.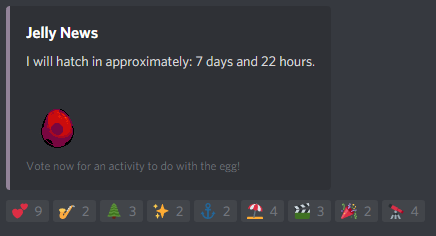 What does this mean? Well, any Jellies raised by our Discord community before launch will end up in-game as special event Jellies that can be caught. A Jelly's stats effect many things from competitions to breeding to quests so planning how to raise a Jelly is important.
If you want to help raise some Jellies be sure to join our Discord server.
What's next?
We're currently preparing for a big game show (more info soon) and focusing on main storyline content which means a lot of writing, scripting and mapping.
In the meantime, be sure to follow @alchemiccutie and @CIRCLE_Ent for future updates.
---